Home

BOOK, MEDIA and PRODUCTS STORE

A descendant of Nathan Bedford Forrest's slaves, Al Arnold, tells his journey of embracing his Confederate heritage. His ancestor, Turner Hall, Jr., a Black Confederate, served as a body servant for two Confederate soldiers and an orderly for Gen. Robert E. Lee. Turner Hall, Jr. was celebrated by Blacks and Whites in his community. Hall attended the last Civil War reunion at Gettysburg in 1938. He was interviewed by the national talk radio show, "We, The People". This is a personal journey of faith, heritage, race and family wrapped around the grace of God through the eyes and honest thoughts of a modern Black man. Arnold argues for African Americans to embrace Confederate heritage to capture the enriched Black history of the Civil War era. He bestows dignity and honor on his Confederate ancestor and challenges the traditional thoughts of modern African Americans. Arnold rests in his faith as the uniting force that reconciles our colorful past to our bright future.

CLICK HERE TO BUY 2018 EXPANDED VERSION
NEW TO THE EXPANDED VERSION ARE CHAPTERS:
"HISTORY LESSONS IN BLACK AND WHITE"
"THE MYSTICAL BLACK CONFEDERATE"
"A BLACK AND WHITE LETTER TO THE CHURCH and MORE!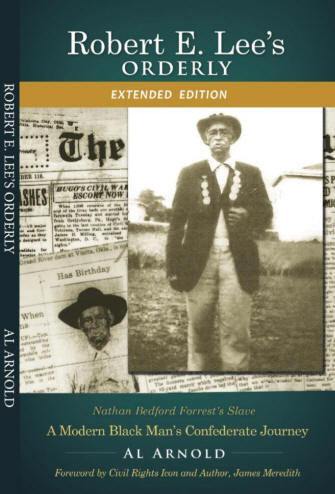 BUY PRODUCTS FOR THE ORIGINAL 2015 EDITION
MP3 BOOK DOWNLOAD 2015
$9.99

KINDLE DOWNLOAD 2015
You will receive an email link to download
$4.99

THE 2015 AUDIO BOOK
4-CD Set
$40.00 plus $3.50 Shipping
Orderlyforlee Podcast!

The Official Sponsor for Orderlyforlee Podcast is Beauvoir, Home of President Jefferson Davis and The Jefferson Davis Presidential Library." Visitbeauvoir.org
Grace, Race, My Confederate Heritage wrapped around my Christian Faith. A place where Christians and Sinners can talk about Grace, Race and Civil War History. I HATE Career politicians!! No DemonCats or RepuKlicans allowed!! Just regular Americans keeping it real at the Cross of Grace and the Christians Faith. A Modern Black Man's Confederate Journey Continues. A descendant of an Orderly for Robert E. Lee and a Slave of General Nathan Bedford Forest takes you on a wild ride of discussions on Matters of Grace and Race and The War Between The States!!
Orderly for Lee Podcast T-Shirt Orders
Picture of Turner Hall Jr. on Back
Front Design: St. Andrew's Cross